Hi, I am Jim Lee. This is my story, and I am sticking with it. I want to give you a little background information on myself and my family, with the hope that you will come to know us better, learn to like us and love our wine. I was born on April 9th, 1942, the oldest son of John Chester and Jennie Lou Franklin Lee. In October of 1960, fresh out of Hokes Bluff High School, I enlisted in the U. S. Marine Corps. I won't bore you with the details of those four years other than Parris Island was a blast! I feel honored to have served.
Photogallery rendered here.
On May 13th 1961, I married my high school sweetheart, Sandra Mae Pentecost; she is the love of my life and the mother of our four sons, Scott, Greg, John and Tim.

In all of our lives, if we live long enough, tragedy occurs.

On January 1st 1985 our son Greg, a junior at the University of Alabama, had a horrible automobile accident. Greg received a brain stem contusion. The family has cared for Greg at home for the last 34 years until he passed away in 2019. In 2010, we lost our youngest son Tim. His life was taken by a serious liver disease. What can you do but remember the good times and use that positive energy to press on.

From the age of four years I was raised with three sisters and three brothers on a forty acre rock farm. The farm was located in Fords Valley, a small community in North East Alabama. On the farm the family grew cotton, corn, vegetables and a variety of fruits. The farm also seemed to produce a never ending supply of rocks.

My mother was the most knowledgeable person about plant life I have ever known. Her gardens supplied the entire community with fruits and vegetables. I think she was a contributor to the "Farmer's Almanac".

One comment that mother made to me that I will never forget, Jimmy (Mother called me Jimmy) "I think grapes are a special gift from God. Humans and animals love grapes. More grapes are grown on this earth than all other fruit combined, and grape vines will grow almost anywhere".
After an honorable discharge from the Marine Corps in October of 1964, I spent the next 28 years working in the publishing industry, then in the technology business with my sons. In 2004, after a year of steady encouragement from my family, I made the decision to retire.

In the summer of 2004 our sons sent us on vacation to California. Sandra and I spent the entire week in wine country. I think we visited every winery tasting room in Napa and Sonoma. What a beautiful place. Almost overnight I became convinced to start a vineyard and open a winery.

I contacted Bob Herrick, owner of Herrick Grapevines, in early 2005. They are located in St. Helena, CA a few miles north of Napa Valley. I told Bob that I wanted to start a vineyard and grow Cabernet Sauvignon. He picked up on my southern accent and quickly asked where the vineyard would be located. Of course, my response was Alabama. He quickly stated that I could not grow true wine grapes in that climate. It is too hot and humid. I told him that I was going to give it a try.

We purchased 1,750 vines from Herrick Grapevines and put them in the ground on the family farm March 26th 2005.

Bob was wrong! The vines love the soil and the climate. The harvest of September 4th 2012 yielded 8 tons of fabulous fruit resulting in 760 gallons of wine.

I believe if you become involved in the wine business it should be a long lasting endeavor, outlasting the founders and many generations of the family. To encourage that dream I named the winery after my four granddaughters. All four fathered by our oldest son Scott.

The Granddaughters
Maraella, the winery name;
Anna Mae
Bella Rae
Savannah Elise
Jessika Lauren
Starting with the youngest granddaughter I chose to use the first two letters in each ones' middle name. Anna Mae, Bella Rae, Savannah Elise and Jessika Lauren.

Jessika Lauren Lee Miller a 2008 graduate of the University of Alabama and presently teaches at Hokes Bluff Middle School. Jessika is married to a great guy, Justin Miller.

Savannah Elise Lee a 2014 graduate of the University of Alabama and a registered nurse pursuing a masters in nursing to become a nurse.

Bella Rae Lee a 8th grader at Hokes Bluff Middle.

Anna Mae Lee a 7th grader at Hokes Bluff Middle.

Maraella Winery opened for business September 14th 2012. In reaching the goal of opening the winery I have had tremendous support from my family, wife Sandra, sons Scott and John. Scott and John have given their time, advice, labor and finances. Tim's enthusiasm for the winery will never be forgotten.

Brother John Alonzo Lee can never be repaid for his contributions. He completely remodeled the building we are using for the winery and assisted in ways too numerous to list, all while finishing his second novel and creating our beloved Gourmet Wine Jelly selection, Alonzo's Pantry.

Justin Miller, grandson-in-law, is a very bright, hardworking young man. I envision Justin to be the future vintner for the winery and to take it to very high levels of accomplishments.
Terry Pike is the winery engineer. Don can build and repair anything. We have named two vineyards after him.

Francisco Deleon, is the vineyards manager. Francisco is a hardworking, dedicated asset to the organization.

The varietals we have to offer are growing yearly and while we will always produce and promote wine made from locally grown grapes and fruits, we will continue to introduce traditional viniferous grapes to our brethren in the south. We do have on the shelves for sale our flagship wine "Cabernet Sauvignon" handcrafted, estate grown and bottled.

Our 2010 Vintage has been awarded Gold and Silver medals from Alabama to California. Our 2012 Cabernet Sauvignon, 2013 Cabernet Sauvignon, 2013 Riesling, 2015 Riesling, 2016 Riesling, Zinfandel, Blueberry, JeLee 2015, and our Carlos (a dry white muscadine) have won Gold and Silver medals in competitions in San Francisco, Los Angeles and Huntsville.
In loving memory of James Edward Lee
4/9/1942-11/25/2015
Continuing the legacy....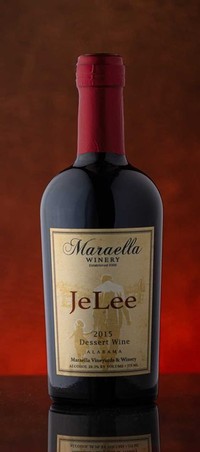 James Edward Lee – Visionary and Co-Founder of Maraella Vineyards & Winery
Scott Edward Lee – Co-Founder of Maraella Vineyards & Winery – Author
My father, James, had made it fairly clear from almost the beginning that he wished for the winery to become a generational family legacy. This fact was driven home even more in April 2014 following his diagnosis of Myelodysplastic Syndrome, a result of his exposure at Camp Lejeune while serving in the Marine Corps.
By late 2014-early 2015, Dad knew that he most likely would not see the end of 2015. As was his way-- he chose to spend his remaining time focusing on those he loved, especially my mother (Sandra) his wife of 54+ years.
May 13th, 2015 was to be their 54th Wedding Anniversary. In the weeks and days leading up to that day, my father worked to plan a catered dinner for my mother and himself-- food, wine, and music in the pavilion outside the winery's tasting room. He asked that it be just the two of them, that none of the family attend or intrude on their time alone.
My daughters have grown up exceptionally close to their grandparents and as such, probably were the ones that protested the loudest when he stated his anniversary plans.
"This was an important date!"
"We should all be there to celebrate the two of you!"
My eldest daughter, Jessika, showing exceptional listening skills like her father (ha!) decided to ignore this request in order to run up to the winery and take a few pictures of Mom and Dad to commemorate the occasion. Although she intended for it to be just a quick trip, she brought my granddaughter Lee Caroline (who was 2 almost 3 at the time) with her.
Dad, the moment he saw Lee, took her by the hand and they headed off to the vineyard. It was then that Jessika used her phone to grab a quick snapshot of a special moment between great-grandfather (G.G.) and great-granddaughter (L.C.). This picture was gifted by Jessika and her family to my mother and I, the Christmas following my father's passing.
When choosing a label design for our JELee Port Wine (Dessert Wine), there was no other choice in our minds but this photo. It is a great picture, extremely sentimental to my family… and to me, it perfectly expresses not only my father's wishes for Maraella to be a Generational Winery-- but our family's promises to him that it will be. The bridging of four generations all in one label, showing respect for the past and anticipation for the future.
I share all this to say, if you've not tried our dessert wine, my father's namesake, the JELee-- you're missing "a moment in a glass" ...it is really good.
Scott E. Lee
We welcome you to the winery, wine tasting privately via Calendly Sunday-Wednesday and 11:00 am to 7:00 pm Thursday - Saturday.
You know you want to
Sign Up For Our Newsletter
Keep up to date on the latest wine releases, events, and promotions.