June 28, 2020 | Marketing, Marketing | Kayla Rooks
North Alabama Wine Trail

Did you know you can download a copy of the North Alabama Wine Trail passport online here? If you don't have a printer, NO WORRIES! All six of our participating wineries have a plethora of passport brochures that you can pick up along the way.
What to expect when taking on this adventure.
From start to finish one way it would take you about 2 hours to drive. Our wine trail extends from North 431 in Albertville, AL to Heflin, AL right off I-20 with a total of Six wineries & vineyards to enjoy along the way. If you have the time to plan ahead, North Alabama has incredible exploration areas complete with lookouts, natural springs, and waterfalls right off your passport pathway. After receiving a stamp from each winery destination our guests receive a complimentary gift, have the option to email a picture of their completed passport to info@northalabama.org, and write us all a review of their experience. We absolutely love seeing photos of your special time together visiting each of our local wineries and beautiful sights. Take it from Lynn Vanek from Mississippi sent to us on June 28, 2020;
"I would like to tell you that we combined Wine and waterfalls and we had the best 4 days together!! Although I think they tried to kill this 64 year Old on some of the trails! LOL. We had a Blast and have passed it on to many of our Friends. You certainly have a Gem with this tour! Thanks again!"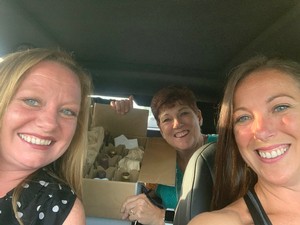 The drive to each winery itself takes you through some of the most simplistically beautiful rural areas North Alabama roots home to. Here are a few scenic destinations that can easily be included when planning your North Alabama Wine Trail experience.
Short Creek Falls
Noccalula Falls

Enter through the campground area to access Black Creek Trail, suspension bridge, and close up waterfall encounter!

Rocky Creek Waterfall- Pinhoti Trail/Heflin Spur
For your Convenience
Each winery's contact information is linked to the accompanying name. During our country's current state of protecting ourselves and our customers from COVID-19 contamination, hours of service and walk-in service may vary. Please reach out to these wineries prior to visiting to ensure excellent service.
Looking for an interesting place to stay during your visit to North Alabama? Check into The Secret in Leesburg, AL, or Lake Guntersville Bed and Breakfast in Guntersville, AL.
Click this map to view and integrate the QUICKEST way to finish the wine trail from Jules. J Berta Vineyards to Fruithurst Winery Co.
Click this map to view the QUICKEST directions beginning at Fruithurst Winery Co. ending in Albertville, AL at Jules J. Berta Vineyards.
Comments
You know you want to
Sign Up For Our Newsletter
Keep up to date on the latest wine releases, events, and promotions.